Deprecated
: Function create_function() is deprecated in
/home/otw86xr5yfzi/public_html/wp-content/plugins/wordpress-23-related-posts-plugin/init.php
on line
215
Deprecated
: Function create_function() is deprecated in
/home/otw86xr5yfzi/public_html/wp-content/plugins/wordpress-23-related-posts-plugin/init.php
on line
215
Deprecated
: Function create_function() is deprecated in
/home/otw86xr5yfzi/public_html/wp-content/plugins/wordpress-23-related-posts-plugin/init.php
on line
215
Canadian Pastor Artur Pawlowski was violently and illegally arrested by Canadian Police as he left his home to preach. The agents called his freedom of speech, his freedom of religion a crime of "mischief." This is in direct violation of the Canadian Charter of Rights and Pastor Pawlowski's God-given Rights.
It is time that the body of Christ steps up and holds those in government accountable for violating the rights of Christians. Pastor Pawlowski must be released from jail and have his rights restored.
JOIN US NOW AND DEMAND PASTOR PAWLOWSKI BE RELEASED!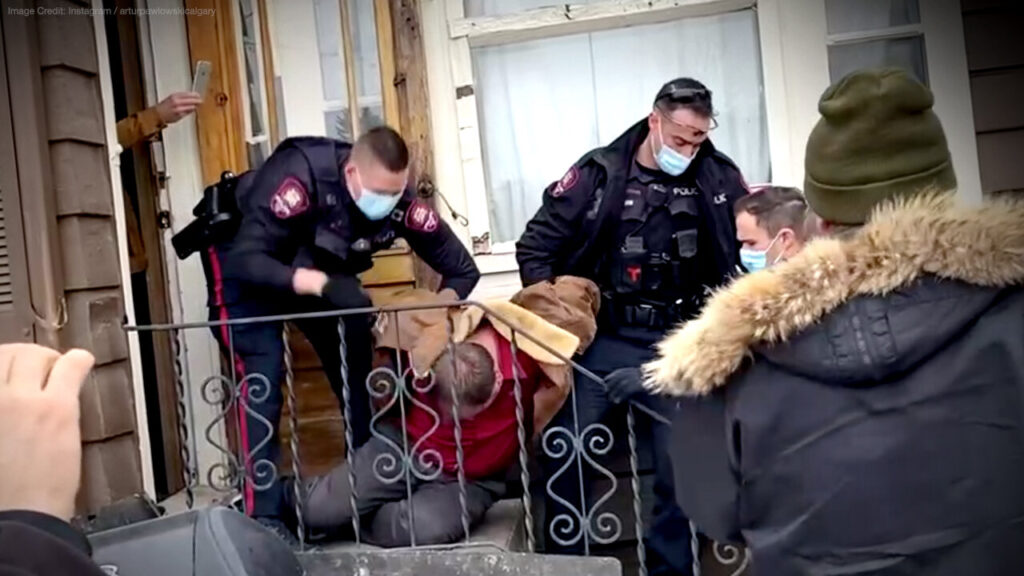 Email AND Post the following message to all the Canadian government officials listed below.
Send this email
The arrest and detention of Pastor Pawlowski is a gross violation of the Canadian Constitution. Calgary Chief Constable Mark Neufeld and Alberta Premier Jason Kenney issuing these lawless orders are violating their sacred trust to the people. Neufeld and Kenney are not examples of moral, law-abiding citizens much less persons trusted to serve the people and defend their rights.
An order that restricts individuals' ability to practice their religion according to the dictates of their conscience is a violation of every Canadian's Fundamental Freedoms as listed in section 2(a) freedom of conscience and religion; 2(b) freedom of thought, belief, opinion and expression; 2(c) freedom of peaceful assembly; and 2(d) freedom of association enshrined in the Canadian Charter of Rights and Freedoms.
This Order that restricts Pastor Pawlowski's freedoms is not "reasonable", "prescribed by law", nor is it "demonstrably justified in a free and democratic society" under section 1 of the Charter.
"If a law should be made inconsistent with those powers vested … the power of the Constitution predominates… Anything, therefore, that shall be enacted contrary thereto, will not have the force of law." James Wilson, British Attorney, 1767
Chief Constable Neufeld and Premier Kenny; Your duty is to abide by the Constitution, not circumvent it to enforce a political agenda. YOU MUST RELEASE PASTOR PAWLOWSKI NOW.
It is not only the Constitutional thing to do, but also the moral thing to do.
Please feel free to share with family and friends!
Email & Post this message to:
Calgary Police Department
Email: cps@calgarypolice.ca
Twitter: @CalagaryPolice
Facebook: https://www.facebook.com/CalgaryPolice
Instagram: https://www.instagram.com/calgarypolice/?hl=en
LinkedIn: https://www.linkedin.com/company/calgary-police-service/?originalSubdomain=ca
YouTube: https://www.youtube.com/user/calgarypolice
Alberta Premier Jason Kenney
Email: premier@gov.ab.ca
Twitter: @jkenney
Facebook: https://www.facebook.com/kenneyjasont
LinkedIn: https://www.linkedin.com/in/jasontkenney/?originalSubdomain=ca
Instagram: @jkenney